At Create the Bridge, we help medical spas and weight loss clinics grow and get new CoolSculpting customers on a consistent basis. So when we see a doctor that is as committed to their clients as Dr. Jarom Ipson is at San Tan Natural Medicine, we can't help but recognize him.
AN INSIDE LOOK AT SAN TAN
San Tan Natural Medicine is an alternative medicine practice in Gilbert, Arizona that offers it's clients a journey to better health through supplements, safe procedures, and better lifestyle habits.
As you might know, since Zeltiq hit the market with CoolSculpting, many doctors around the globe have been jumping on the opportunity of offering the hottest alternative to surgical fat reduction technology that is safe and effective. Dr. Jarom bought into the opportunity and throughout the months had been struggling to generate a consistent flow of CoolSculpting leads and business.
Zeltiq does a great job of advertising to consumers in some markets and that helps many vendors, but how do you distinguish yourself from the competition and drive more customers your way instead of the competition? And what happens when Zeltiq stops advertising?
Dr. Jarom knew he had to be different and started to develop his own marketing funnels, but soon realized he needed help. He heard about our results with our Cool FACTOR program and decided to contact us.
SAN TAN & CREATE THE BRIDGE WORKING TOGETHER
Dr. Jarom and the Create the Bridge marketing team planned a Facebook advertising campaign that would appeal to San Tan's target main audience of women. We included images of the practice and staff so that people could see a glimpse of who they'd be speaking with before signing up.
We also used a fantastic offer of a $500 OFF CoolSculpting Gift Certificate to give to anyone in the market who was thinking about CoolSculpting but need a little push to take the plunge and try CoolSculpting.
Here's the ad we ran with this campaign for Dr. Jarom: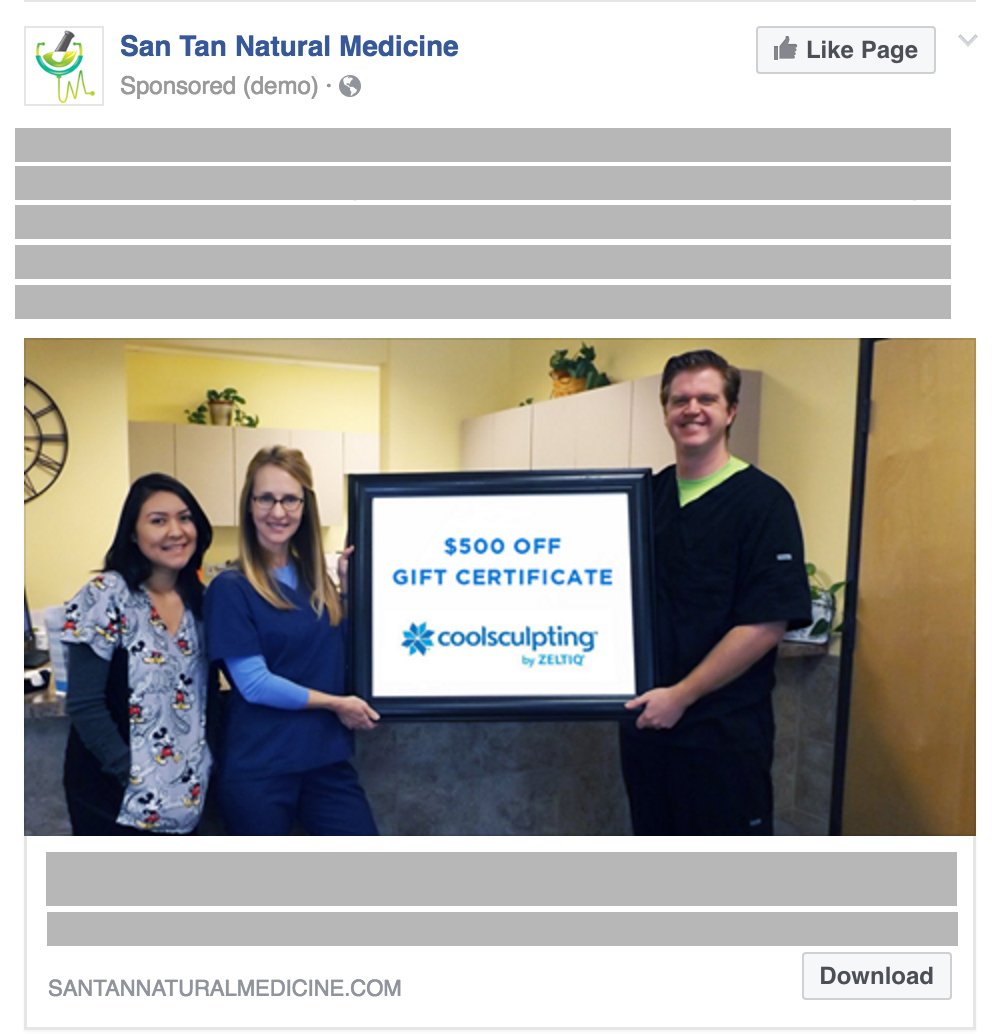 The ad routed people to a landing page where they filled out a form with their name, email and phone number to claim San Tan's offer. This page also contained the unique benefits CoolSculpting had to offer.
By the end of the first week, the Cool FACTOR program brought in 53 leads for Dr. Jarom at a cost per lead of $4.70.
DR. JAROM'S UNIQUE MARKETING PROCESS
Since Dr. Jarom had already created some really great educational videos on CoolSculpting, we decided to include these as part of our email automation process.
Within 24 hours: The lead would receive an email with an offer, but also included the first video of a 3 part series created by Dr. Jarom talking about the benefits of CoolSculpting.
Within 48 hours: The lead would then receive another email with the second video.
Within 72 hours: A follow-up email with the third video.
Within 96 hours: At this point we sent another email mentioning it was the last day to schedule a consultation before the gift certificate expires.
This follow-up sequence is unique because most CoolSculpting practices don't take the time to educate their audience. They don't understand the process a cold prospect goes through before even considering CoolSculpting as an option.
You already know that once someone hears about CooSculpting, they'll most likely spend a few hours researching the technology. Why not engineer the process by giving them what they want?--education. Dr. Jarom understood this and therefore got some amazing results.
THE RESULTS
In just 1 week we were able to generate 53 leads which in turn generated 900% return onSan Tan Natural Medicine's investment. If that's not amazing, I don't know what is.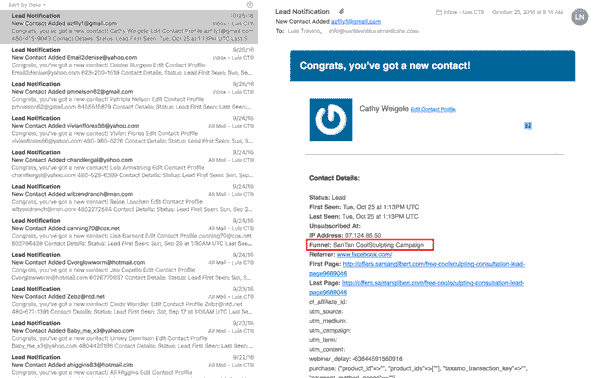 It's been awesome to see and be a part of the success that Dr. Jarom has had in helping people find and reach their health goals. We're super excited with his results so far, and we can't wait to see how his practice continues to grow.
Here's what he has to say about working with us:
If you're a medical practice that needs a consistent flow of leads and new business, you need Cool FACTOR. Reach out to us at 866.244.9221 and schedule a consultation or Click here to Learn more about our Cool FACTOR program.