Lead generation is what every local business thrives on. And when we say leads, we don't mean likes, clicks, or shares. We mean actual form submissions, phone calls, texts, etc from people who are interested in your service!
So when leads are a little slow… so is the business. But when it's reversed and a company gets 240 leads in 4 weeks and generates $22,000 from only $2,000 in ad spend - more than 11x what they're used to - you know something good is happening.
And that's exactly what we did for one of our clients, a weight loss and medical spa in Rochester, New York.
We used our Cool FACTOR program to get a ton of leads in the first 4 weeks. But since this process is our unique framework, we'll reveal as much as we can without giving everything away.
Here's a breakdown of what the customers sees as they go through the Cool FACTOR campaign (which stands for Facebook Ads, Audience, Capture, Traffic, Offer, Retargeting):
Facebook ad with our client's offer > Click the ad > Taken to a landing page > They redeem > Taken to a thank you page> Sent an automatic confirmation email > Retargeted to on Facebook.
Now let's dive in!
The Offer
Our clients wanted to offer new customers a $500 OFF CoolSculpting Gift Certificate.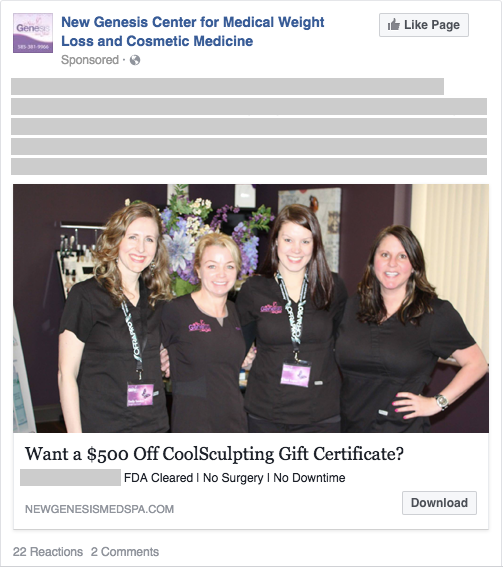 We ran this offer through a marketing campaign for their location - Rochester, New York. In the first 7 days total they got 42 leads and made $12,200 in gross sales.
Let's break down the process.
1 - Facebook Campaign
So our client had an amazing offer that we wanted to get seen by more of the right people. We built a couple of campaigns highlighting the staff within the spa and the offer. Here's a peek of the images for the ad:
One reason this campaign did so well was because the targeting was super niche.
Location - specific mile radius around targeted neighborhoods
Age of our client's target audience
Gender specific
Unique interests
And more!
2 - Video
Since Zeltiq has a massive array of amazing videos, we used the video that features the doctor's comments on CoolSculpting. One of CoolSculpting's unique selling points - as you already know - is that it's backed by board certified doctors, so a video where physicians are backing the technology works wonders in establishing credibility.
3 - Landing Page
As mentioned, the video was placed on the landing page. We build a simple form to fill out to redeem the offer. Then once our local visitor did that, we took them to a thank you page that had more information about the medical spa and some unique triggers to get them to call in to schedule their free consultation.
Once the offer was filled out by the customer, they were entered into our CRM where a tag was applied to them based on the offer they opted into. This triggered a drip email campaign which leads us to…
4 - Email
The leads received a confirmation email right away that included the gift certificate and more information about the details of the offer.
The header of the email read as "Here's our gift to you" Once the customer they saw this: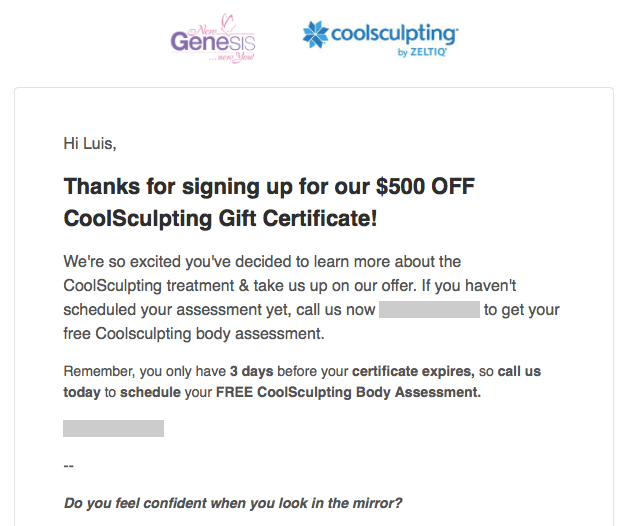 So in this email we included the (1) customer's personal name (2) the initial gift certificate offer (3) an awesome how-to video (4) additional information about the free consultation.
5 - Retargeting
So once someone clicked our client's Facebook ad and either opted into the offer or decided it wasn't what they wanted… we wanted to be sure that it didn't end there. That's why we used retargeting so that our client's ads followed their leads on Facebook and 1 other outlets.
Here's what the client had to say:
There you have it. A quick process of how we were able to generate these results. If you're a CoolSculpting Med Spa interested in gaining more members, you need Cool FACTOR.
Learn more about our program here: Cool FACTOR Program