Last week was our 2nd Code Factory event! In case you missed it, here's a recap of what took place.
What is Code Factory?
Code Factory is an initiative of Create the Bridge and UTPA's Continuing Education Department to bring technology to the forefront as a platform for creative innovation in the Rio Grande Valley, specifically within the areas of design and technology. 
We presented samples of interested topics, which can be done through code and design. Our demonstrations consisted of: 
Data-visualization : An Animated Info-graphic by Luis Treviño 
The main goal of the data-visualization presentation was to exchange information clearly and efficiently to users via information graphics. Data, which is much more than graphs and charts, should be displayed using captivating graphics and be organized and presented in a way that tells a story. 
Planning and Wireframing for Digital Design by Sara Gonzalez
Wireframes are a blueprint for your digital projects. Planning and wireframing is an essential part of digital designing. It helps the client, marketing team, designers and anyone else involved in the project understand the relationship among the product's content, pages, elements and functionality. 
An Introduction to the Unreal Development Kit by Joshua Tyree  
The demonstration served as an introduction to the use of the Unreal Development Kit (UDK).  UDK is an award-winning 3D game engine and professional toolset used in blockbuster video game development, architectural visualization, mobile game development, 3D rendering, digital films and more. 
Overall, our turnout was great! Within 3 days, we capped the building's capacity by reaching 110 students in attendance and with emails likes these, we felt pretty accomplished. 

Being able to impact the lives of these students, whether it's through exposing them to a field they never would have considered, or simply encouraging them to explore the subjects further at home is what Code Factory is all about. Planting the seed today so that it blossoms in the future. 
We're glad of the overall turnout and we invite you to stay tuned for the next Code Factory to come early 2015. In the meantime check out the video!

Also, make sure to sign-up for our video animation course we'll be offering in November through UPTA's Continuing Education.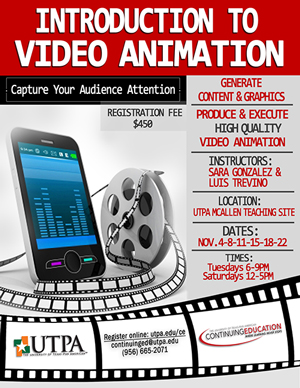 See you there.